PROPHET ™ VS RAM Cartridges

**NOW IN STOCK** RAM CARTRIDGE (blank or with sounds)
$99 per cartridge - add a sound set for $9.95 per cartridge
Click here to visit SequentialCircuits.com for additional VS Sound Cartridges information.


Every Prophet VS is equipped with a cartridge port that accepts either a VS ROM or VS RAM Cartridge. Without a VS cartridge you cannot take advantage of this expansion port. Each VS ROM or VS RAM Cartridge can store 100 programs and up to 32 waveforms. Please note that only VS RAM carts allow the user to STORE his programs & waves to the cartridge. Any VS Sound Set listed can be programmed onto a VS RAM cartridge.
Select from 6 sets of 100 programs per cartridge sets
....>>>600 VS Sound Programs in 6 sets


$9.95 per Sound Set - choose from
Sound Set #1, #2, #3, #4, #5, #6
to be programmed onto a $99 RAM Cartridge


6 Sets of VS Sound Programs


VS #1 original factory sounds

VS #2 gig-type factory sounds

VS #3 gig-type non-factory sounds

VS #4 best-of sounds #1, #2, #3

VS #5 spacey American sounds

VS #6 gig-type European sounds
Click here for payment by Credit Card




If you prefer to use

Click here
Prophet™ VS Rackmount Introduced January 1987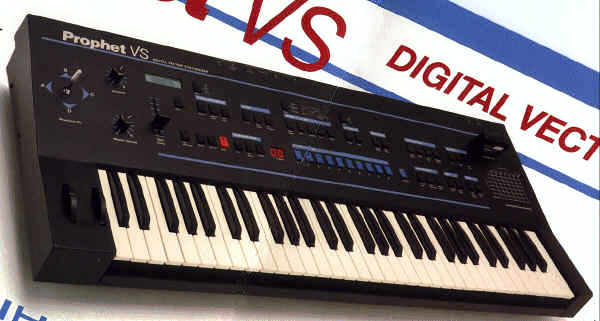 Prophet™ VS Keyboard Introduced January 1986
Final Operating Software ROMs For Prophet VS Available
Check your VS Software Version Level TODAY
Prophet™ VS Version 1.2
Now only $34.95
This two chip set offers an Increment & Decrement
function so that very small changes to parameter values can be
easily accomplished without using the data slider. Other
features include Local Keyboard On/Off, and a non-volatile
Program Number that allows the last program selected at
power down to automatically return at power-up. The LFO is
also synchronized to key depressions, & a transpose mode is
available. These chips are socketed; no soldering is required.
Installation is easy! Complete operations and installation
instructions are also included with every order.
Your current version level scrolls in the display
at Prophet™ VS power-up
Shipping Charges
USA $10
CANADA/MEXICO $13
INTERNATIONAL from $17 to $60
California Residents must add 8.75% Sales Tax
The trademarks PROPHET, SEQUENTIAL, SEQUENTIAL CIRCUITS
are trademarks of Yamaha Corporation used by Wine Country
Productions, Inc. under license.

Navigation Menu